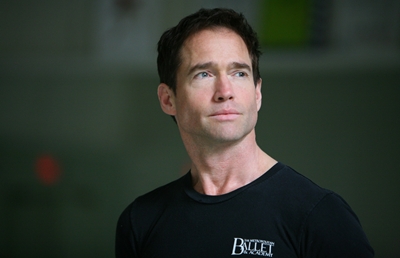 Erik Sanborn
, Founder/Artistic Director of the Metropolitan Ballet Company. Mr. Sanborn, a native of Minnesota, has performed several principal roles including the Nutcracker Prince and Cavalier, Arabian Prince, Snow Cavalier, Blue Bird Pas de Deux, Head Rancher in Rodeo, Prince Florimund in Sleeping Beauty, Fall Pas de Deux in Cinderella and the male lead in CAAM's Butterfly Lovers choreographed by world renown Chinese Choreographer, Shen Pei.
His careers have taken him through 25 countries in Europe, South America, Africa and the Middle East. Film experiences include principal and feature roles in works with B.B.D.O., Digital Video Works, an ABC Movie with Kate Jackson, Northwest Tele-productions, Goib-Hamburg Germany and Anheuser Busch. Erik was a celebrity guest of the Special Olympics event with Tommy DePaolo and Tippy Hedgrin and has been the subject of interviews with numerous programs including NBC Television, PM Magazine and Twin Cities Live. While living in Europe he worked with Talents International Krystel Flath Agency for clients such as OTTO Versand, Neckermann Versand and Vitamin-Genus. Print works include GQ Magazine, Esquire, and Seventeen Magazine. Theater experience principal roles in "Fanny's Funny Farm" the "Braxton Theater" and the Chimera Theater, Collings Fine Arts, the North-East Play House. Commercial work with Carmichael Lynch, Young Rubicam and Saffer-Cravit are other credits to his career.
Mr Sanborn has produced and directed several large productions at The State, Pantages and NORTHRUP theatres including Romeo & Juliet, A Midsummer's Night's Dream, Agnes DeMille's RODEO, The Nutcracker and two Classic Ballet Gala events. His accomplishments also include choreographing several works including The Nutcracker and The Mouse King, Paloma, and creating and producing the 2006 Premier of Dracula, A Ballet of Passion, Life and Death. Erik is also an accomplished pianist and dedicates his efforts in the fine arts in the spirit of his late daughter Anna.